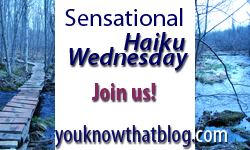 A new Sensational Haiku Wednesday challenge. This week's prompt "malice" I didn't really know what to do with this one.
Malice
a tone of angriness, but I am not so good at writing about negative feelings such as malice, but I have given it a try.
such a malice
cherry blossoms in full bloom
the Spring wind!
despite
the rough weather, through the clouds
the full moon
in the garden
despite the heavy rain
a snowman
PS. In the last two haiku I have used a synonym of malice ... despite.
Sincerely,