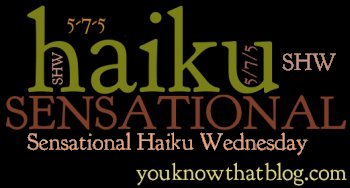 Dear Haiku friends,
It's a long time ago that I participated in the Sensational Haiku Wednesday, because of lack of time and of course keeping my other blogs up-to-date. I remember that for this meme it's necessary to write a haiku on the given theme in the classical way. As several weeks ago I gave my own 'Back to Basic' theme for my haiku meme. It's not my piece of cake to write in the classical 5-7-5 way, but I can say right from my heart that I love to write sometimes a classical one. So this week's theme of Sensational Haiku Wednesday "freestyle" I will use to write another classical haiku.
finally dark clouds break
after the rains and thunderstorms
the bright and warm sunlight
This is really not my cup of tea, but I enjoyed it very much. (Had to use a syllable counter ... smiles). Thank you for this opportunity to try (again) the classical way of haiku.
Thunderstorm

Well ... maybe next week again ...?